Get Well Flowers
Let FLOWERAMA of Clearwater, FL help you send get well wishes to your friend or loved one. Show them how much you care with a get well gift basket filled with a floral arrangement or customized get well gifts. A basket filled with snacks, bath products, unique jewelry and accessories, or a favorite stuffed animal is a great and easy way to cheer up a loved one. Top off your personalized gift with a fun balloon bouquet. Wanting something a little more traditional? There is no better or simpler way to remind someone that you're thinking of them than with get well flowers from FLOWERAMA. Scroll down to browse and order online from our sample selection of get well flowers and plants or call to customize a gift for that special someone. Let FLOWERAMA of Clearwater, FL help you wish a loved one a "Get well soon".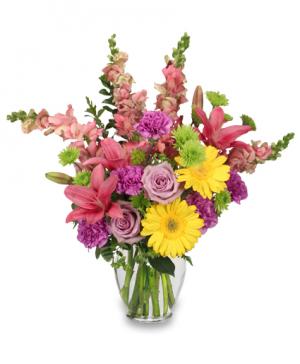 Savannah Style
Floral Arrangement
MAKE A SPLASH WITH THIS BOUQUET OF FRESH FLOWERS FROM FLOWERAMA. Sending an arrangement of bright, colorful flowers is the perfect way to bring a little unexpected joy to a loved one, co-worker or friend this summer. Call our flower shop or order flowers now from our website!
$59.99, $69.99, $79.99
Shown at $59.99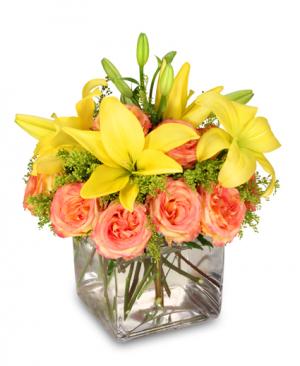 Have A Lovely Day!
Bouquet
Brighten her day with a stylish bouquet of sunny yellow lilies and bi-colored roses. She'll feel extra special the moment this arrangement arrives and it's sure to keep her smiling long after. Order now from our website or call to send fresh flowers today!
$59.99, $69.99, $79.99
Shown at $59.99
Hospitals and Health Care Providers in Our Delivery Area:
---

Name
Address
Phone

---

Abalmoral Manor
1711 Balmoral Dr Clearwater, FL. 33756
(727) 441-2373
Advantage Mental Health Center
28465 Us Hwy 19 N Clearwater, FL. 33761
(727) 600-8093
Ambleside Manor Aclf
585 Casler Ave Clearwater, FL. 33755
(727) 449-1946
Amer Home
1918 Barrington Dr W Clearwater, FL. 33763
(727) 446-3619
Anover's Tlc Homes
804 S Belcher Rd Clearwater, FL. 33764
(727) 449-0075
Antietam Gardens
1760 Kenesaw Ln Clearwater, FL. 33765
(727) 441-2299
Assisted Living At Eastwinds
2050 58th St N Clearwater, FL. 33760
(727) 539-1568
Autumn Years
904 Richards Ave Clearwater, FL. 33755
(727) 447-1407
Barrbee Towers
1100 Druid Rd E Clearwater, FL. 33756
(727) 446-1460
Bay Aristocrat Village
18675 Us Highway 19 N Clearwater, FL. 33764
(727) 531-4906
Bayview Gardens Retirement
2855 Gulf To Bay Blvd Clearwater, FL. 33759
(727) 797-7400
Bayview Nursing Pavilion
2855 Gulf To Bay Blvd Bldg 31 Clearwater, FL. 33759
(727) 724-6800
Beckett Lake Lodge Alf
2271 Montclair Rd Clearwater, FL. 33763
(727) 797-7257
Belle Vista Retirement Home
1453 Belleair Rd Clearwater, FL. 33756
(727) 587-0880
Belleair Country House
2298 Belleair Rd Clearwater, FL. 33764
(727) 524-1390
Belleair Towers
1100 Ponce De Leon Blvd Clearwater, FL. 33756
(727) 581-6540
Best Care
1430 Palmetto St Clearwater, FL. 33755
(727) 443-6010
Camelot Care Ctr
4910 Creekside Dr # D Clearwater, FL. 33760
(727) 596-9960
Casa Miguel Apartments
2285 State Road 580 Clearwater, FL. 33763
(727) 797-8551
Cathleen's Manor Assisted Lvg
1623 Sandstone Ct Clearwater, FL. 33756
(727) 449-1556
Chateau Blanc
711 Casler Ave Clearwater, FL. 33755
(727) 446-0292
Clear Bay Terrace Apartments
1770 N Betty Ln Clearwater, FL. 33755
(727) 448-0036
Clearwater Center
1270 Turner St Clearwater, FL. 33756
(727) 443-7639
Clearwater Manor
1815 Star Dr Clearwater, FL. 33765
(727) 442-4046
Curlew Care Home
2730 Curlew Rd Clearwater, FL. 33761
(727) 785-9487
Doral Mobile Home Villas
29250 Us Highway 19 N Clearwater, FL. 33761
(727) 784-2179
Drew Village Rehabilitation
401 Fairwood Ave Clearwater, FL. 33759
(727) 797-6313
Druid Gardens
1230 Druid Rd E Clearwater, FL. 33756
(727) 447-4073
East Bay Nursing Ctr
4470 E Bay Dr Clearwater, FL. 33764
(727) 530-7100
Edgewater Retirement Manor
2057 Edgewater Dr Clearwater, FL. 33755
(727) 446-6514
Egozi Plastic Surgery Center
1608 Gulf To Bay Boulevard Clearwater, FL. 33755
(727) 461-5872
Elm Place Manor
1687 Elm Pl Clearwater, FL. 33755
(727) 447-2261
Encore Senior Village
620 Belleair Rd Clearwater, FL. 33756
(727) 467-9464
Fairwinds Treatment Ctr
1569 S Fort Harrison Ave Clearwater, FL. 33756
(727) 449-0300
Family Care Free House
1875 Allendale Dr Clearwater, FL. 33760
(727) 532-9945
Family Guest
2179 Dodge St Clearwater, FL. 33760
(727) 535-9942
Feathersound Smiles
2325 Ulmerton Rd, Suite 27 Clearwater, FL. 33762
(727) 561-0800
Glen Madison
701 S Madison Ave Clearwater, FL. 33756
(727) 561-0197
Glen Oaks Health Care
1100 N Pine St Clearwater, FL. 33756
(727) 442-7106
Glendale House
1706 N Highland Ave Clearwater, FL. 33755
(727) 461-0774
Gulf Coast Nursing & Rehab Ctr
905 S Highland Ave Clearwater, FL. 33756
(727) 442-9606
Gulf To Bay Mobile Home Park
2381 Gulf To Bay Blvd Clearwater, FL. 33765
(727) 799-2163
Hampton At Clearwater
1099 N Mcmullen Booth Rd Clearwater, FL. 33759
(727) 726-8861
Harborside Healthcare
1980 Sunset Point Rd Clearwater, FL. 33765
(727) 443-1588
Heritage House
1810 S Belcher Rd Clearwater, FL. 33764
(727) 531-2236
Highland Manor
900 S Highland Ave Clearwater, FL. 33756
(727) 461-4860
Highland Pines Nursing Manor
1111 S Highland Ave Clearwater, FL. 33756
(727) 446-0581
Highland Terrace Apartments
1520 Jeffords St Fl 4 Clearwater, FL. 33756
(727) 443-0675
Homewood Residence-Countryside
3260 N Mcmullen Booth Rd Clearwater, FL. 33761
(727) 726-5090
Joslin Center For Diabetes
323 Jeffords St Clearwater, FL. 33756
(727) 461-8300
Lighthouse Retirement
2248 Albright Dr Clearwater, FL. 33765
(727) 726-1284
Madison Glen
701 S Madison Ave Clearwater, FL. 33756
(727) 461-0197
Magnolia Manor
926 S Myrtle Ave Clearwater, FL. 33756
(727) 445-1268
Mariner Health Of Belleair
1150 Ponce De Leon Blvd Clearwater, FL. 33756
(727) 585-5491
Meadow Dale Manor Inc
1507 Meadow Dale Dr Clearwater, FL. 33764
(727) 524-2769
Mease Countryside Hospital
3231 N Mcmullen Booth Rd Clearwater, FL. 33761
(727) 725-6111
Midway Manor Retirement Ctr
1754 Ensley Ave Clearwater, FL. 33756
(727) 586-1969
Miraculous Medal Home Care
709 College Hill Dr Clearwater, FL. 33765
(727) 799-6422
Morning Star
15701 George Blvd Clearwater, FL. 33760
(727) 536-5233
Morton Plant Mease Hospital
Po Box 210 Clearwater, FL. 33757
(727) 462-7000
Morton Plant Rehab Ctr
400 Corbett St Clearwater, FL. 33756
(727) 462-7600
National Housing Ministries
1426 Gulf To Bay Blvd # E Clearwater, FL. 33755
(727) 441-4971
Normandy Manor
1103 Normandy Rd Clearwater, FL. 33764
(727) 461-7689
Nursery Road Villa
2446 Nursery Rd Clearwater, FL. 33764
(727) 536-1082
Nurses Helping Heart
1735 Nursery Rd Clearwater, FL. 33756
(727) 442-9878
Oak Bluffs Health Care Ctr
420 Bay Ave Clearwater, FL. 33756
(727) 445-4700
Palm Garden
3480 N Mcmullen Booth Rd Clearwater, FL. 33761
(727) 786-6697
Park Place Of Dunedin Inc
541 Park St Clearwater, FL. 33756
(727) 734-7734
Parkview Retirement Residence
2750 Drew St Clearwater, FL. 33759
(727) 799-2177
Pilgrim's Haven
1014 Osage St Clearwater, FL. 33755
(727) 446-8506
Prospect Towers Of Clearwater
801 Chestnut St Clearwater, FL. 33756
(727) 447-5701
Raintree
620 Edenville Ave Clearwater, FL. 33764
(727) 797-2018
Red Ribbon Homestead
1123 Pinellas St Clearwater, FL. 33756
(727) 443-4195
Regency Oaks
2770 Regency Oaks Blvd Clearwater, FL. 33759
(727) 791-3381
Sharondale
1743 Sharondale Dr Clearwater, FL. 33755
(727) 443-0174
Summit House
1943 Summit Dr Clearwater, FL. 33763
(727) 725-9294
Sunburst Manor
315 Sunburst Ct Clearwater, FL. 33755
(727) 443-7792
Sunset Villa Retirement Home
2308 Americus Dr Clearwater, FL. 33763
(727) 799-6595
Turley Family Health Ctr
807 N Myrtle Ave Clearwater, FL. 33755
(727) 467-2400
Twin Oaks Alf
2143 Ne Coachman Rd Clearwater, FL. 33765
(727) 442-2971
Union House
1930 Union St Clearwater, FL. 33763
(727) 734-0594
Westchester Gardens Rehab Ctr
3301 N Mcmullen Booth Rd Clearwater, FL. 33761
(727) 785-8335
Windmoor Healthcare-Clearwater
11300 Us Highway 19 N Clearwater, FL. 33764
(727) 541-2646
Wood Crest Manor
1735 Jeffords St Clearwater, FL. 33756
(727) 447-8558
Woodgate Place
2314 Hawthorne Dr Clearwater, FL. 33763
(727) 797-9678
Alterra Wynwood
880 Patricia Ave Dunedin, FL. 34698
(727) 734-4696
Brer Fox Colonial
353 Colonial Ct Dunedin, FL. 34698
(727) 734-9156
Cedar Creek Residents Inc
605 Michigan Blvd Dunedin, FL. 34698
(727) 733-1398
Dunedin Care Ctr
1351 San Christopher Dr Dunedin, FL. 34698
(727) 736-1421
Edinborough Square
1059 Virginia St Dunedin, FL. 34698
(727) 733-6091
Heather Haven
725 Edgewater Dr Dunedin, FL. 34698
(727) 733-3510
Heather Haven Ii
220 Scotland St Dunedin, FL. 34698
(727) 734-5337
Honeymoon Mobile Home Park
1100 Curlew Rd Dunedin, FL. 34698
(727) 733-6040
Lakeside Manor
676 Union St Dunedin, FL. 34698
(727) 734-2820
Mease Dunedin Hospital
Po Box 760 Dunedin, FL. 34697
(727) 733-1111
Mease Manor Inc
700 Mease Plz Dunedin, FL. 34698
(727) 733-1161
Mediterranean Manor
2700 Bayshore Blvd Dunedin, FL. 34698
(727) 736-2782
Milwaukee Grove House Inc
753 Scotland St Dunedin, FL. 34698
(727) 736-6632
Rosalie Manor
534 Howell St Dunedin, FL. 34698
(727) 733-7299
Spanish Gardens Nursing Ctr
1061 Virginia St Dunedin, FL. 34698
(727) 733-4189
Tlc Dentistry
Tlc Dentistry, 2323 Curlew Ste 2f Dunedin, FL. 34698
(727) 785-2467
Westwind Manufactured Home
3301 Alt 19 # 181 Dunedin, FL. 34698
(727) 784-4380
Wildflower Inn
639 Michigan Blvd # 1500 Dunedin, FL. 34698
(727) 736-0793
Able Palms Home & Health Care
499 Alternate Keene Rd # 820 Largo, FL. 33771
(727) 586-2711
Arden Court Alzheimer Assisted Living
300 Highland Ave Ne Largo, FL. 33770
(727) 559-8411
Barrington
901 Seminole Blvd Largo, FL. 33770
(727) 585-5900
Belle Vista Bluffs
1138 Rosemary Dr Largo, FL. 33770
(727) 587-0887
Berrington Terrace
333 16th Ave Se Largo, FL. 33771
(727) 588-0020
Charter Behavioral Health Syst
12891 Seminole Blvd Largo, FL. 33778
(727) 587-6000
Dental Implant Solutionz
1960 E Bay Dr Largo, FL. 33771
(727) 535-6400
East Bay Oaks
601 Starkey Rd # Ofc Largo, FL. 33771
(727) 531-9105
El Dorado Village
2505 E Bay Dr # Ofc Largo, FL. 33771
(727) 531-9105
Fairway Village Mobile Home Pk
1100 Belcher Rd S Largo, FL. 33771
(727) 536-2705
Glenncor
10746 109th St Largo, FL. 33778
(727) 397-3169
Healthsouth Rehabilitation Ctr
901 Clearwater Largo Rd N Largo, FL. 33770
(727) 586-2999
Heavenly Haven 1
12680 95th St Largo, FL. 33773
(727) 587-0623
Heritage Presbyterian Apt
10200 122nd Ave Largo, FL. 33773
(727) 393-3477
Holiday Shores Park Inc
10289 Paradise Dr Largo, FL. 33773
(727) 393-5916
Holistic Health Spa & Fitness
400 Lake Ave Ne Largo, FL. 33771
(727) 518-6008
Holwerda House
11324 102nd Ct Largo, FL. 33778
(727) 449-1446
Home Health Svc
13787 Belcher Rd S # 200 Largo, FL. 33771
(727) 585-0100
Homestead
750 Starkey Rd Largo, FL. 33771
(727) 586-0108
Hospital Housekeeping Svstems
1601 E Bay Dr # 2 Largo, FL. 33771
(727) 584-3018
House That Faith Built
1105 Melba Ct Largo, FL. 33770
(727) 584-7353
Imperial Palm Apartments
308 Imperial Palm Dr Largo, FL. 33771
(727) 585-3723
Indian Oaks Manor
Po Box 1773 Largo, FL. 33779
(727) 593-0403
Indian Oaks Manor Lakeside
11290 Walsingham Rd Largo, FL. 33778
(727) 397-9597
Largo Medical Ctr
Po Box 2905 Largo, FL. 33779
(727) 588-5200
Loving Care Adult Congregate
870 7th Ave Ne Largo, FL. 33770
(727) 581-4506
Non Profit Hospitals
2618 W Bay Dr Largo, FL. 33770
(727) 518-7639
Oak Manor Nursing Home
3600 Oak Manor Ln Largo, FL. 33774
(727) 581-9427
Oasis Park
12766 Seminole Blvd # 42 Largo, FL. 33778
(727) 581-4288
Our Home
12912 128th Ln Largo, FL. 33774
(727) 596-9526
Overbrook Manor
124 Overbrook Dr E Largo, FL. 33770
(727) 585-5962
Palm Garden
200 16th Ave Se Largo, FL. 33771
(727) 585-9377
Patty's Retirement Home
10578 Ulmerton Rd Largo, FL. 33771
(727) 596-5413
Phyllis Manor
405 7th Ave Sw Largo, FL. 33770
(727) 584-4411
Pinecrest Place
1150 8th Ave Sw Largo, FL. 33770
(727) 581-8142
Regal Palms Independent Living
300 Lake Ave Ne Largo, FL. 33771
(727) 437-1350
Royal Palms Senior Residence
200 Lake Ave Ne Largo, FL. 33771
(727) 585-8003
Sabal Palms Health Care Ctr
499 Alternate Keene Rd Largo, FL. 33771
(727) 586-4211
Sun Coast Hospital
Po Box 2025 Largo, FL. 33779
(727) 581-9474
Tierra Pines Health Care Ctr
7380 Ulmerton Rd Largo, FL. 33771
(727) 535-9833
Tlc Manor Inc
1403 4th St Sw Largo, FL. 33770
(727) 518-9087
Wright's Nursing Home
11300 110th Ave Largo, FL. 33778
(727) 391-9986
Harborside Healthcare
3865 Tampa Rd Oldsmar, FL. 34677
(813) 855-4661
A Boarding Homes
3191 Carriage Dr Palm Harbor, FL. 34684
(727) 773-9604
A Villa Rosa Assisted Living
1655 Curlew Rd Palm Harbor, FL. 34683
(727) 786-0763
Arden Courts Manor Care Health
2895 Tampa Rd Palm Harbor, FL. 34684
(727) 771-1600
Balmoral
2960 Tampa Rd Palm Harbor, FL. 34684
(727) 781-8686
Chateau Palms
1679 Tampa Rd Palm Harbor, FL. 34683
(727) 786-8574
Coral Oaks Assisted Living Ctr
900 W Lake Rd Palm Harbor, FL. 34684
(727) 787-3333
Countryside Haven
6960 County Road 95 Palm Harbor, FL. 34684
(727) 786-8461
Countryside Health Care Ctr
3825 Countryside Blvd N Palm Harbor, FL. 34684
(727) 784-2848
Curlew Care Home I
1722 Curlew Rd Palm Harbor, FL. 34683
(727) 785-8350
Doc's Resort
4400 Winding Willow Dr Palm Harbor, FL. 34683
(727) 787-0595
East Lake Radiology
3890 Tampa Rd Fl 1 Palm Harbor, FL. 34684
(727) 786-3890
Harborside Healthcare
34921 Us Highway 19 N # 451 Palm Harbor, FL. 34684
(727) 726-4888
Harborside Healthcare
2600 Highlands Blvd N Palm Harbor, FL. 34684
(727) 785-5671
Long Shadow Inn
2275 Nebraska Ave Palm Harbor, FL. 34683
(727) 786-3558
Marriott Stratford Court
45 Katherine Blvd Palm Harbor, FL. 34684
(727) 787-1500
Mease Continuing Care
910 New York Ave Palm Harbor, FL. 34683
(727) 733-2113
Morton Plant Mease-Palm Harbor
32672 Us Highway 19 N Palm Harbor, FL. 34684
(727) 772-2200
St Mark Village
2655 Nebraska Ave Palm Harbor, FL. 34684
(727) 785-2580
St Mark Village Assisted Lvng
880 Highlands Blvd Palm Harbor, FL. 34684
(727) 785-2576
White House Aclf
1822 Nebraska Ave Palm Harbor, FL. 34683
(727) 789-2933
Abbey Rehab & Nursing Ctr
7101 9th St N Saint Petersburg, FL. 33702
(727) 527-7231
Alcove Retirement Ctr Iii
Po Box 8783 Saint Petersburg, FL. 33738
(727) 898-0560
Alhambra Nursing Home
7501 38th Ave N Saint Petersburg, FL. 33710
(727) 345-9307
All Children's Hospital
801 6th St S Saint Petersburg, FL. 33701
(727) 898-7451
All Children's Hospital Fndtn
800 5th St S Saint Petersburg, FL. 33701
(727) 892-4199
All Children's Hospital Speech
33 6th St S Saint Petersburg, FL. 33701
(727) 892-4141
All Heart Adult Care
2417 21st St S Saint Petersburg, FL. 33712
(727) 821-0203
Alpine Rehabilitation Ctr
3456 21st Ave S Saint Petersburg, FL. 33711
(727) 327-1988
Angel Haven
225 11th Ave Ne Saint Petersburg, FL. 33701
(727) 895-4313
Angelas House For The Elderly
4912 23rd Ave N Saint Petersburg, FL. 33710
(727) 321-1602
Arbor Oaks At Tyrone
1701 68th St N Saint Petersburg, FL. 33710
(727) 345-8900
Assisted Living Network
10460 Roosevelt Blvd N # 242 Saint Petersburg, FL. 33716
(727) 532-9280
Azalea Manor
112 12th Ave N Saint Petersburg, FL. 33701
(727) 821-8510
B & H Care Homes
235 12th Ave N Saint Petersburg, FL. 33701
(727) 894-8427
B & H Care Homes
205 4th Ave N Saint Petersburg, FL. 33715
(727) 823-5482
B & H Group Homes
242 4th Ave S Saint Petersburg, FL. 33701
(727) 894-0340
Barbara's Tlc Home
536 61st St S Saint Petersburg, FL. 33707
(727) 347-2624
Barthelette Guest Home
145 14th Ave N Saint Petersburg, FL. 33701
(727) 894-4524
Bay Mansion Retirement Home
2157 Bayou Grande Blvd Ne Saint Petersburg, FL. 33703
(727) 525-2373
Bay Mobile Home Park
3049 6th St S Saint Petersburg, FL. 33705
(727) 895-4288
Bay Pines Manor
10591 Bay Pines Blvd Saint Petersburg, FL. 33708
(727) 391-5965
Bay Pointe Nursing Pavilion
4201 31st St S Saint Petersburg, FL. 33712
(727) 867-1104
Bayfront Medical Ctr
701 6th St S Saint Petersburg, FL. 33701
(727) 823-1234
Bayfront Medical Plz
603 7th St S Fl 2 Saint Petersburg, FL. 33701
(727) 553-7906
Bayfront-St Anthony's Health
500 Ml King St N Saint Petersburg, FL. 33705
(727) 825-1766
Baytree Haven
6411 46th Ave N Saint Petersburg, FL. 33709
(727) 545-0623
Bell Haven Manor
325 8th Ave Ne Saint Petersburg, FL. 33701
(727) 823-4195
Bethany Towers
880 Oleander Way S Saint Petersburg, FL. 33707
(727) 344-1491
Blue Haven Retirement Ctr
12979 Williams Ave Saint Petersburg, FL. 33708
(727) 393-1544
Boca Ciega Ctr
1414 59th St S Saint Petersburg, FL. 33707
(727) 344-4608
Boley Centers For Behav Healthcare Inc Dave Miller
840 34th Avenue South Saint Petersburg, FL. 33705
(727) 895-5553
Boley Centers For Behav Healthcare Inc Koenig Cent
647 34th Avenue Saint Petersburg, FL. 33705
(727) 824-5745
Boley Centers-Behaviorial Hlth
Po Box 11389 Saint Petersburg, FL. 33733
(727) 821-4819
Bon Secours Maria Manor
10300 4th St N Saint Petersburg, FL. 33716
(727) 576-1025
Bond Hotel
421 4th Ave N Saint Petersburg, FL. 33701
(727) 822-4783
Burlington Tower
1000 Burlington Ave N Saint Petersburg, FL. 33705
(727) 823-3867
Butterfly Manor
660 3rd Ave S Saint Petersburg, FL. 33701
(727) 896-4515
Buttonwood Manor
334 6th Ave N Saint Petersburg, FL. 33701
(727) 822-3592
Carden House
2349 Central Ave Saint Petersburg, FL. 33713
(727) 327-4005
Carrington Place Nursing Home
10501 Roosevelt Blvd N Saint Petersburg, FL. 33716
(727) 577-3800
Casa Grande
1557 Robinson Dr N Saint Petersburg, FL. 33710
(727) 345-3844
Center For Special Surgery
4650 4th St N Saint Petersburg, FL. 33703
(727) 527-1919
Clinton Crest Retirement Hotel
343 4th Ave N Saint Petersburg, FL. 33701
(727) 898-0724
Club Chalet Mobile Home Park
7880 54th Ave N Saint Petersburg, FL. 33709
(727) 546-1926
College Harbor Retirement Comm
4600 54th Ave S Fl 2 Saint Petersburg, FL. 33711
(727) 866-3124
Colonial Care Ctr
6300 46th Ave N Saint Petersburg, FL. 33709
(727) 544-1444
Columbia Edward White Hospital
2323 9th Ave N Saint Petersburg, FL. 33713
(727) 323-1111
Columbian Apartments
518 3rd Ave S Saint Petersburg, FL. 33701
(727) 895-8591
Concordia Manor
321 13th Ave N Saint Petersburg, FL. 33701
(727) 822-3030
Conner's Mobile Home Park
2701 34th St N Saint Petersburg, FL. 33713
(727) 323-4905
Courtyard Manor-St Petersburg
1325 4th St N Saint Petersburg, FL. 33701
(727) 823-6812
Crosswinds Mobile Home Park
4125 Park St N Saint Petersburg, FL. 33709
(727) 544-7770
Easton House
493 8th Ave N Saint Petersburg, FL. 33715
(727) 823-8006
Edward White Hospital Rehab
1839 Central Ave Saint Petersburg, FL. 33713
(727) 896-2400
Egret Cove Ctr
550 62nd St S Saint Petersburg, FL. 33707
(727) 347-6151
Fair Oaks Assisted Lvng Fclty
738 Country Club Rd N Saint Petersburg, FL. 33710
(727) 343-0593
Farmer's Retirement Home Inc
2135 40th Ave N Saint Petersburg, FL. 33714
(727) 522-6590
Fifth Avenue Retirement Home
126 5th Ave N Saint Petersburg, FL. 33701
(727) 898-0429
Fountain Inn
250 6th Ave S Saint Petersburg, FL. 33701
(727) 895-5771
Fountains At Boca Ciega Bay
1255 Pasadena Ave S Saint Petersburg, FL. 33707
(727) 347-2169
Four Palm Manor
302 11th Ave Ne Saint Petersburg, FL. 33701
(727) 894-4572
Front Porch Manor
157 9th Ave N Saint Petersburg, FL. 33701
(727) 894-1222
Geri-Cheer Guest Home
4760 8th Ave S Saint Petersburg, FL. 33711
(727) 321-7446
Golfview Nursing Home
3636 10th Ave N Saint Petersburg, FL. 33713
(727) 323-3611
Good Samaritan Nursing Home
3127 57th Ave N Saint Petersburg, FL. 33714
(727) 527-2171
Goodwill Industries Suncoast Inc
10596 Gandy Boulevard Saint Petersburg, FL. 33702
(727) 523-1512
Greenbrook Nursing Ctr
1000 24th St N Saint Petersburg, FL. 33713
(727) 323-4711
Gwen Harriott Assisted Living
5201 5th Ave N Saint Petersburg, FL. 33710
(727) 323-8976
Hagey's House
3935 43rd Ave N Saint Petersburg, FL. 33714
(727) 522-3275
Health & Rehabilitation Ctr
1820 Shore Dr S Saint Petersburg, FL. 33707
(727) 384-9300
Heartland Health Care Ctr
1001 9th St N Saint Petersburg, FL. 33701
(727) 896-8619
Heavenly Haven Iii
6439 1st Ave S Saint Petersburg, FL. 33707
(727) 343-6944
Hillcrest Retirement Residence
220 5th Ave N Saint Petersburg, FL. 33701
(727) 822-3582
Homewood At Bay Pines
9797 Bay Pines Blvd Saint Petersburg, FL. 33708
(727) 398-5090
Hospice Of The Florida Sncst
3050 1st Avenue South Saint Petersburg, FL. 33712
(727) 586-4432
Huber Gardens
521 69th Ave N Saint Petersburg, FL. 33702
(727) 526-7000
Isle Of Palms Mobile Home Park
7400 46th Ave N Saint Petersburg, FL. 33709
(727) 541-2222
Jacaranda Manor
4250 66th St N Saint Petersburg, FL. 33709
(727) 546-2405
Jaylene Retirement Home
896 73rd Ave N Saint Petersburg, FL. 33702
(727) 521-1843
John Knox Apartments
1035 Arlington Ave N Saint Petersburg, FL. 33705
(727) 896-5148
Krc Regency
3600 34th St S Saint Petersburg, FL. 33711
(727) 867-2000
Lake Rich Village
7777 46th Ave N Saint Petersburg, FL. 33709
(727) 544-1515
Lake View House
465 7th Ave N Saint Petersburg, FL. 33701
(727) 898-3948
Laura's Personal Care
880 17th Ave S Saint Petersburg, FL. 33701
(727) 823-1058
Laurel Oak Lodge
5423 40th Ave N Saint Petersburg, FL. 33709
(727) 521-4070
Laurels Rehabilitation Ctr
550 9th Ave S Saint Petersburg, FL. 33701
(727) 898-4105
Lexington Terrace
6340 46th Ave N Saint Petersburg, FL. 33709
(727) 547-9566
Lois Ann Guest Home
116 6th Ave Ne Saint Petersburg, FL. 33701
(727) 894-1515
Lutheran Apartments
550 1st Ave S Saint Petersburg, FL. 33701
(727) 896-3197
Majestic Towers Health Ctr
1255 Pasadena Ave S Saint Petersburg, FL. 33707
(727) 381-7301
Martha's Retirement Home
3586 53rd Ave N Saint Petersburg, FL. 33714
(727) 522-4439
Mary Pavan
801 6th St S Saint Petersburg, FL. 33701
(727) 892-4150
Masonic Home Of Fl
3201 1st St Ne Saint Petersburg, FL. 33704
(727) 822-3499
Melody Gardens Resident Owned
7803 46th Ave N Saint Petersburg, FL. 33709
(727) 544-0714
Menorah Center Inc
250 58th St N Saint Petersburg, FL. 33710
(727) 347-5191
Menorah Manor
255 59th St N Saint Petersburg, FL. 33710
(727) 345-2775
Mlf Towers
540 2nd Ave S Saint Petersburg, FL. 33701
(727) 823-1575
Nance's Retirement Ctr Inc
3039 4th St N Saint Petersburg, FL. 33704
(727) 821-6436
National Health Care Ctr
435 42nd Ave S Saint Petersburg, FL. 33705
(727) 822-1871
Nhc Healthcare Of St Petes
435 42nd Ave S Saint Petersburg, FL. 33705
(727) 822-0286
North Rehabilitation Ctr
1301 16th St N Saint Petersburg, FL. 33705
(727) 898-5119
Northeast Oaks
300 34th Ave N Saint Petersburg, FL. 33704
(727) 894-3933
Northside Hospital & Heart
6000 49th St N Saint Petersburg, FL. 33709
(727) 521-4411
Nurses Loving Heart
4071 55th Way N # 9 Saint Petersburg, FL. 33709
(727) 586-4423
Oakmont
2260 54th Ave N Saint Petersburg, FL. 33714
(727) 526-0505
Ob Access Ctr
6500 38th Ave N Saint Petersburg, FL. 33710
(727) 341-4941
Operation Par Inc
2000 4th Street South Saint Petersburg, FL. 33705
(727) 893-5444
Operation Par Inc Shirley Coletti Acad For Behav C
6720 54th Avenue North Saint Petersburg, FL. 33709
(727) 547-4508
Palm Cove Retirement Residence
310 24th Ave N Saint Petersburg, FL. 33704
(727) 898-2257
Palm Shores Of St Petersburg
830 N Shore Dr Ne Saint Petersburg, FL. 33701
(727) 822-2907
Palms Of Pasadena Hospital
1501 Pasadena Ave S Saint Petersburg, FL. 33707
(727) 381-1000
Pasadena Manor
1430 Pasadena Ave S Saint Petersburg, FL. 33707
(727) 347-1257
Patience Plus
2954 Dartmouth Ave N Saint Petersburg, FL. 33713
(727) 323-8146
Patrick Manor
531 8th St N Saint Petersburg, FL. 33701
(727) 895-5509
Pickett Fence Manor
1662 9th St S Saint Petersburg, FL. 33701
(727) 821-7682
Pinecrest Mobile Home Park Ltd
2500 52nd Ave N # 47 Saint Petersburg, FL. 33714
(727) 525-4131
Pinellas Caregiver Assoc
1255 Pasadena Ave S Saint Petersburg, FL. 33707
(727) 381-5411
Plaza Fifth Avenue Apartments
441 33rd St N Saint Petersburg, FL. 33713
(727) 327-1444
Presbyterian Homes & Housing
1051 2nd Ave N Saint Petersburg, FL. 33705
(727) 894-0368
Presbyterian Towers Inc
430 Bay St Ne Saint Petersburg, FL. 33701
(727) 822-3823
Princess Martha
411 1st Ave N Saint Petersburg, FL. 33701
(727) 894-6788
Quality Home Care
1237 34th Ave N Saint Petersburg, FL. 33704
(727) 527-9369
Quality Home Care Ii
4534 14th Ave N Saint Petersburg, FL. 33713
(727) 327-4864
Rainbow Guests
827 Burlington Ave N Saint Petersburg, FL. 33701
(727) 821-5664
Rose Garden
232 Nw Monroe Cir N Saint Petersburg, FL. 33702
(727) 526-6271
Rosedale Manor
3479 54th Ave N Saint Petersburg, FL. 33714
(727) 527-7315
Saint Anthony's Hospital
1200 7th Ave N Saint Petersburg, FL. 33705
(727) 825-1000
Saint Petersburg General Hosp
6500 38th Ave N Saint Petersburg, FL. 33710
(727) 341-4055
Sea Horse Mobile Home
8424 Bay Pines Blvd Saint Petersburg, FL. 33709
(727) 347-0625
Shady Oaks Alzheimers Home
1825 Juarez Way S Saint Petersburg, FL. 33712
(727) 867-7122
Shore Acres Rehab & Nursing
4500 Indianapolis St Ne Saint Petersburg, FL. 33703
(727) 527-5801
South Heritage Nursing Ctr
718 22nd Ave S Saint Petersburg, FL. 33705
(727) 894-5125
Spanish Oaks Retirement Ctr
324 2nd St N Saint Petersburg, FL. 33701
(727) 823-7368
St Anthony's Hospital
1200 7th Ave N Saint Petersburg, FL. 33705
(727) 825-1501
St Petersburg General Hospital
6500 38th Ave N Saint Petersburg, FL. 33710
(727) 384-1414
St Petersburg Surgery Ctr
539 Pasadena Ave S Saint Petersburg, FL. 33707
(727) 345-8337
Stephanie's Manor
3461 64th St N Saint Petersburg, FL. 33710
(727) 347-2979
Suncoast Ctrs For Community Health Inc Programs Fo
21-c Martin Luther King Street Saint Petersburg, FL. 33705
(727) 894-3533
Suncoast Manor
6909 9th St S Saint Petersburg, FL. 33705
(727) 867-1131
Suncoast Manor Health Ctr
6909 9th St S Saint Petersburg, FL. 33705
(727) 864-7117
Suncoast Nursing Home
2000 17th Ave S Saint Petersburg, FL. 33712
(727) 821-3544
Sunny Acres Trailer Park
4025 46th Ave N Saint Petersburg, FL. 33714
(727) 525-3503
Sunrise At North Shore
939 Beach Dr Ne Saint Petersburg, FL. 33701
(727) 823-1571
Sunshine Mobile Home Park
7403 46th Ave N Saint Petersburg, FL. 33709
(727) 541-1079
Swanholm Living Ctr
6200 Central Ave Saint Petersburg, FL. 33707
(727) 347-5196
Sweet Home Country Manor
6405 40th Ave N Saint Petersburg, FL. 33709
(727) 347-5200
Theratx Corp At Abbey
7101 9th St N Saint Petersburg, FL. 33702
(727) 528-0481
Treasure Village Mobile Home
5151 4th St N Saint Petersburg, FL. 33703
(727) 527-1701
Tyrone Manor
2192 74th St N Saint Petersburg, FL. 33710
(727) 347-0703
Us Veterans Medical Ctr
10000 Bay Pines Blvd Saint Petersburg, FL. 33708
(727) 398-6661
Vencor Hospital
3030 6th St S Saint Petersburg, FL. 33705
(727) 894-8719
Victoria's Tender Care
4810 13th Ave S Saint Petersburg, FL. 33711
(727) 321-2362
Victorian Village
Po Box 232 Saint Petersburg, FL. 33731
(727) 822-1789
Village Green Mobile Home Park
2001 83rd Ave N Saint Petersburg, FL. 33702
(727) 577-0135
West Coast Inn
300 2nd St N Saint Petersburg, FL. 33701
(727) 822-6074
Westcare Florida Inc A Turning Point
1801 5th Avenue North Saint Petersburg, FL. 33712
(727) 823-7811
Westcare Florida Inc Dr Mlk Jr Street Outpatient
1735 Dr Mlk Jr Street South Saint Petersburg, FL. 33705
(727) 502-0188
Westcare Florida Mustard Seed Inn
2510 Central Avenue Saint Petersburg, FL. 33712
(727) 328-1752
Westminster Shores
125 56th Ave S Saint Petersburg, FL. 33705
(727) 867-2131
Wilders Mobile Homeowners Assn
770 32nd Ave S # 500a Saint Petersburg, FL. 33705
(727) 896-3390
Wirick
434 4th St N Saint Petersburg, FL. 33701
(727) 823-2139
A Place In The Sun
12840 90th Ter Seminole, FL. 33776
(727) 393-6444
Alternatives In Assisted Live
9801 131st St Seminole, FL. 33776
(727) 595-6181
Arbors At St Petersburg
9393 Park Blvd Seminole, FL. 33777
(727) 391-2200
Arden Courts Manor Care Health
9300 137th St Seminole, FL. 33776
(727) 517-7800
Aspenwood Inc
9218 118th Way Seminole, FL. 33772
(727) 393-8502
Bardmoor Outpatient Ctr
8787 Bryan Dairy Rd Seminole, FL. 33777
(727) 394-5900
Casa Celeste
9225 82nd Ave Seminole, FL. 33777
(727) 397-7272
Dolphin House
9670 134th St Seminole, FL. 33776
(727) 596-3266
Freedom Court Manor
11277 Freedom Ct Seminole, FL. 33772
(727) 397-9978
Freedom Square
7800 Liberty Ln Seminole, FL. 33772
(727) 398-0166
Freedom Square Life Care
10800 Temple Ter Seminole, FL. 33772
(727) 398-0244
Freedom Square Nursing Ctr
10801 Johnson Blvd Seminole, FL. 33772
(727) 398-0379
General Congregate Living Home
9000 86th Ave Seminole, FL. 33777
(727) 391-5631
Greenbriar Manor
7555 131st St Seminole, FL. 33776
(727) 398-0880
Gulf Crest Home Owners Assn
6985 Seminole Blvd Seminole, FL. 33772
(727) 392-6774
Home Sweet Home
7555 Pine Valley Ln Seminole, FL. 33776
(727) 393-8121
Inn At Lake Seminole Square
8355 Seminole Blvd Seminole, FL. 33772
(727) 391-0500
Krystyna's Home
9873 Commodore Dr Seminole, FL. 33776
(727) 596-1458
Lake Seminole Square
8333 Seminole Blvd Seminole, FL. 33772
(727) 391-0500
Largo Health Care
9035 Bryan Dairy Rd Seminole, FL. 33777
(727) 395-9619
Oak Tree Manor
7770 128th St Seminole, FL. 33776
(727) 398-1286
Palm Garden Of Largo
10500 Starkey Rd Seminole, FL. 33777
(727) 397-8166
Seminole Nursing Pavilion
10800 Temple Ter Seminole, FL. 33772
(727) 398-0123
Tlc Manor Of Seminole
13449 Periwinkle Ave Seminole, FL. 33776
(727) 398-7996
7 Summit Pathways
1910 Orient Rd Tampa, FL. 33619
(813) 630-4673
A Briter Smile Dental Care
20729 Center Oak Ave, Suite 108 Tampa, FL. 33647
(813) 907-1222
A Country Place
10515 Memorial Hwy Tampa, FL. 33615
(813) 891-0549
A Healing Arts
326 W Bearss Ave, Tampa, FL. 33613
(813) 960-8833
A Hired Hand In-Home Care, Llc.
12110 Calder Manor Court, Tampa, FL. 33626
(813) 924-5930
A South Tampa Clinic Doctor Riscile's Walk-In Clin
3201 S Dale Mabry Hwy Tampa, FL. 33629
(813) 831-6000
Abigail Assisted Living Residence
2626 N Dundee St Tampa, FL. 33629
(813) 258-2919
Access House Rehabilitation
1109 E 139th Ave Tampa, FL. 33613
(813) 972-2289
Adams House Of Tampa
Po Box 260577 Tampa, FL. 33685
(813) 835-5700
Adult & Geriatric Medical Care
7001 N Dale Mabry Hwy Ste 11 Tampa, FL. 33614
(813) 915-5555
Advance Home Care 200
107 S Willow Ave Tampa, FL. 33606
(813) 258-6900
Advanced Spine & Injury Center
6944 W Linebaugh Ave,ste. 101 Tampa, FL. 33625
(813) 699-0946
Advantage Mri Management Inc
2910 W Knights Ave Tampa, FL. 33611
(813) 870-2900
After Hours Pediatrics Inc
3838 W Neptune St Ste D6, Tampa, FL. 33629
(813) 254-4209
Aguila Adult Care Ctr
503 N Matanzas Ave Tampa, FL. 33609
(813) 872-8000
Albany Avenue Adult Congregate
211 N Albany Ave Tampa, FL. 33606
(813) 253-0034
Alimar Assisted Living
2933 W Columbus Dr Tampa, FL. 33607
(813) 350-9040
All Kids Clinic
1922 W Dr Martin Luther King Jr Blvd Martin L King Jr, Tampa, FL. 33607
(813) 849-5437
Allcare General Medical Clinic
14924 Casey Rd, Tampa, FL. 33624
(813) 963-1982
Alliancecare Physicians House Calls
3710 Corporex Park Dr Tampa, FL. 33619
(813) 620-1223
Alterra Clare Bridge
1513 W Fletcher Ave Tampa, FL. 33612
(813) 265-0844
Alterra Healthcare
14950 Casey Rd Tampa, FL. 33624
(813) 963-6100
Ambient Healthcare Inc
4710 Eisenhower Blvd Ste 12 Tampa, FL. 33634
(813) 886-5866
American Pediatrics Inc
5009 N Central Ave Tampa, FL. 33603
(813) 231-9191
American Relax Ctr
4600 N Habana Ave Tampa, FL. 33614
(813) 877-8381
American Well Care Inc
1612 W Waters Ave # 102a Tampa, FL. 33604
(813) 935-3283
Amrose Care
2520 W Crest Ave, Tampa, FL. 33614
(813) 872-8296
Angel's Garden Alf
8003 N Rome Ave Tampa, FL. 33604
(813) 933-5159
Ankle + Foot Center
2835 W De Leon St Tampa, FL. 33609
(813) 254-4747
Arbor Village Inc
13107 N 22nd St Tampa, FL. 33612
(813) 972-3616
Arc
13719 N Nebraska Ave Tampa, FL. 33613
(813) 978-1300
Artistic Liposculpting Center
6319 Memorial Highway Tampa, FL. 33615
(813) 886-9090
Aseracare Home Health (carrolwood)
10330 N Dale Mabry Hwy Suite 220 Tampa, FL. 33618
(813) 265-4349
Aseracare Home Health (tampa)
5509 W Gray St Suite 204 Tampa, FL. 33609
(813) 289-3778
Associates In Behavioral Health & Recovery
2529 W Busch Blvd Ste 206 Tampa, FL. 33618
(813) 931-5933
Aston Gardens At Tampa Bay
12951 W Linebaugh Ave Tampa, FL. 33626
(813) 855-2811
Astoria Mobile Home Estate Ltd
6201 E 14th Ave # 21 Tampa, FL. 33619
(813) 621-5489
At Home With Friends Inc
3720 W Bay To Bay Blvd Tampa, FL. 33629
(813) 831-1914
At Home With Friends Inc
3901 W Platt St Tampa, FL. 33609
(813) 876-8229
Bain Sports Conditioning & Rehab
10323 Cross Creek Blvd, Tampa, FL. 33647
(813) 994-0021
Balance Harmony
7827 N Dale Mabry Hwy Tampa, FL. 33614
(813) 933-1087
Bamboo Villas Alf
2730 W Wilder Ave Tampa, FL. 33614
(813) 872-0790
Bay Gardens Retirement Village
1415 E 124th Ave Tampa, FL. 33612
(813) 977-2369
Bayshore Presbyterian Apt
2909 W Barcelona St Tampa, FL. 33629
(813) 839-3381
Bayside Clinic
8488 W Hillsborough Ave Tampa, FL. 33615
(813) 889-9800
Beverly Health & Rehab Ctr
518 W Fletcher Ave Tampa, FL. 33612
(813) 265-1600
Blackstone Medical Svc
730 S Sterling Ave Tampa, FL. 33609
(813) 872-9600
Brighton Gardens Of Tampa
16702 N Dale Mabry Hwy Tampa, FL. 33618
(813) 908-2333
Brightstar
1915 N Dale Mabry Hwy Suite 406, Tampa, FL. 33607
(813) 870-6700
Buena Vida Residence Inc
5813 Lake Bend Ave Tampa, FL. 33614
(813) 876-9244
Burks Boarding Home
Po Box 5893 Tampa, FL. 33675
(813) 248-9545
Cambridge Retirement
9410 Tree Tops Lake Rd Tampa, FL. 33626
(813) 792-5250
Camelot Community Care
405 E Palm Ave, Tampa, FL. 33602
(813) 228-0731
Canterbury Tower
3501 Bayshore Blvd Tampa, FL. 33629
(813) 837-1083
Cardiac Institute Of Florida
Po Box 1289 Tampa, FL. 33601
(813) 253-4000
Care Plus Walk-In Clinics
519 Bloomingdale Ave, Tampa, FL. 33619
(813) 655-4100
Caribe Health Center Inc
4812 N Habana Ave Tampa, FL. 33614
(813) 873-1392
Caring Heart Assisted Living
2002 E 21st Ave, Tampa, FL. 33605
(813) 247-2026
Carrollwood Care Ctr
15002 Hutchison Rd Tampa, FL. 33625
(813) 960-1969
Carrollwood Family Medical & Rehabilitation Center
13301 Orange Grove Dr Tampa, FL. 33618
(813) 960-8866
Casa De Palma House Of Palms
302 E Palm Ave, Tampa, FL. 33602
(813) 229-7302
Casa Marti
4406 Melton Ave Tampa, FL. 33614
(813) 870-1430
Castle Court Alf Inc
9709 N Nebraska Ave Tampa, FL. 33612
(813) 933-6333
Catholic Health East
6200 W Courtney Campbell # 100 Tampa, FL. 33607
(813) 281-9098
Center For Family Health-Not For Profit-Serving Th
912 E Sligh Ave, Tampa, FL. 33604
(813) 237-6988
Center For Rational Living
3202 Henderson Blvd Ste 300 Tampa, FL. 33609
(813) 874-0600
Center For Specialized Surgery
2808 W Dr Martin Luther Kng Jr Tampa, FL. 33607
(813) 874-2040
Chalet Village
14622 N Nebraska Ave Tampa, FL. 33613
(813) 971-1350
Charter Behavioral Health Syst
4001 N Riverside Dr Tampa, FL. 33603
(813) 238-8671
Childrens Medical Clinic
507 E Lake Ave Martin L King Jr #112 Tampa, FL. 33603
(813) 229-6139
Citrus Park Chiropractic Clinic
12084 Anderson Rd Tampa, FL. 33625
(813) 265-4135
Clifford Hill Boarding Home
1303 E New Orleans Ave Tampa, FL. 33603
(813) 237-5439
Coleman's Residential Boarding
115 N Delaware Ave Tampa, FL. 33606
(813) 254-7147
Columbus Rehab Ctr
2114 W Columbus Dr Tampa, FL. 33607
(813) 374-9948
Comfort Care Medical Rehab
3712 W Walnut St, Tampa, FL. 33607
(813) 876-0038
Consult Care Inc
221 Hobbs St Ste 101, Tampa, FL. 33619
(813) 620-0026
Continucare Medical Grp Office
3225 S Macdill Ave # 117 Tampa, FL. 33629
(813) 837-2814
Courtyard At Lowry Place
1508 W Sligh Ave Tampa, FL. 33604
(813) 935-3600
Cross Over For Women
2904 N Mitchell Ave Tampa, FL. 33602
(813) 655-4457
Cta River Apartments Inc
4505 N Rome Ave Tampa, FL. 33603
(813) 231-9117
Cutaneous Oncology Program
12902 Magnolia Dr # 3057 Tampa, FL. 33612
(813) 972-4673
Dalia Assisted Living Facility
4536 W Idlewild Ave Tampa, FL. 33614
(813) 882-9848
Davita Central Tampa Home Hemo
4204 N Macdill Ave, Tampa, FL. 33607
(813) 872-8216
Delta Health Care Ctr
1818 E Fletcher Ave Tampa, FL. 33612
(813) 971-2383
Dethune Clinic
1515 W Union St, Tampa, FL. 33607
(813) 251-4447
Docare Clinic
3317 W Gandy Blvd, Tampa, FL. 33611
(813) 878-2222
Doctor's Walk-In Clinic
2810 W Dr Martin Luther King Jr Blvd Tampa, FL. 33607
(813) 877-8450
Doctor's Walk-In Clinic
13856 N Dale Mabry Hwy Tampa, FL. 33618
(813) 264-1885
Dr. William Lichter
6712 Hanley Rd Tampa, FL. 33634
(813) 885-6001
Drug Rehab Centers Tampa
503 E Jackson St Tampa, FL. 33602
(813) 579-4155
E & C's Ybor Manor Inc
2903 N 17th St Tampa, FL. 33605
(813) 248-5663
East Tampa Medical Center
4802 E 7th Ave, Tampa, FL. 33605
(813) 248-6245
Eldercare Adult Living
13507 Greentree Dr Tampa, FL. 33613
(813) 960-3024
Elmcroft Of Carrollwood
2626 W. Bearss Avenue Tampa, FL. 33618
(813) 960-5346
Escondido Palms
1908 E 131st Ave Tampa, FL. 33612
(813) 977-7878
Eva's Home Care
2601 N Woodrow Ave Tampa, FL. 33602
(813) 228-0206
Excel Rehab & Nursing
2811 Campus Hill Dr Tampa, FL. 33612
(813) 972-9700
Fairway Oaks Ctr
13806 N 46th St Tampa, FL. 33613
(813) 977-4214
Florida Gulf Coast Apartments
816 W Linebaugh Ave Tampa, FL. 33612
(813) 933-1020
Florida Wellness & Rehab
101 N Franklin St, Suite A Tampa, FL. 33602
(813) 229-2225
Focus Home Health Care
200 S Hoover Blvd Ste 160, Tampa, FL. 33609
(813) 288-8001
Fountain Ave Aclf Inc
6815 Fountain Ave Tampa, FL. 33634
(813) 882-9051
Fsj Boarding Home
4202 N Nebraska Ave Tampa, FL. 33603
(813) 238-1487
Fusion Healthcare
2511 W Virginia Ave Tampa, FL. 33607
(813) 636-5017
Gail's A L F
811 E Osborne Ave Tampa, FL. 33603
(813) 239-3322
Gloria's Aclf
6015 N Himes Ave Tampa, FL. 33614
(813) 870-0131
Gloria's Aclfi
3213 W Cass St Tampa, FL. 33609
(813) 879-1544
Gomez Injury Clinic
4602 N Armenia Ave # D1 Tampa, FL. 33603
(813) 876-1690
Good Health Associates Inc
2411 W Boy Scout Blvd Tampa, FL. 33607
(813) 871-4927
Grand Court Tampa
4902 Bayshore Blvd Tampa, FL. 33611
(813) 835-4475
Gulf Coast Injury Center
1104 W Kennedy Blvd, Tampa, FL. 33606
(813) 258-6051
H & H Medical Clinic
2901 W Hillsborough Ave Tampa, FL. 33614
(813) 870-2233
Habana Medical Center
5352 N Habana Ave Tampa, FL. 33614
(813) 871-6064
Haciendas De Ybor Apartments
1615 Hacienda Ct Tampa, FL. 33605
(813) 248-9640
Hailes Boarding Home
1009 N Willow Ave Tampa, FL. 33607
(813) 251-1327
Hanna Oaks Personal Care Comm
2425 E Hanna Ave Tampa, FL. 33610
(813) 238-3053
Head & Neck Clinic
12902 Usf Magnolia Dr Tampa, FL. 33612
(813) 972-8460
Health & Wellbeing 2
2700 N Macdill Ave # 110 Tampa, FL. 33607
(813) 876-4729
Health And Well Being Inc
3401 W Columbus Dr Ste 2 Tampa, FL. 33607
(813) 341-5100
Health Ease Of Florida Inc
8735 Henderson Rd Tampa, FL. 33634
(813) 290-6200
Health Plus Wellness Centers
3338 S Dale Mabry Hwy Tampa, FL. 33629
(813) 832-4792
Healthpark-Family Care Medical
5802 N 30th St Tampa, FL. 33610
(813) 239-1186
Healthsouth
3602 Madaca Ln Tampa, FL. 33618
(813) 908-7936
Healthwest Rehab Group
4229 N Habana Ave Tampa, FL. 33607
(813) 870-7227
Healthy Families Hillsborough
7520 W Waters Ave Tampa, FL. 33615
(813) 901-9602
Hidden Springs
2311 E Fowler Ave Tampa, FL. 33612
(813) 977-7411
Hillsborough County - Specialty Care Clinic
1105 E Kennedy Blvd Tampa, FL. 33602
(813) 307-8064
Home Association Inc
1203 E 22nd Ave Tampa, FL. 33605
(813) 229-6901
Home Instead Senior Care
10330 N Dale Mabry Hwy Ste 205 Tampa, FL. 33618
(813) 930-9366
Home Is Where The Heart Is
Po Box 82749 Tampa, FL. 33682
(813) 932-3618
Homes Of Regency Cove Inc
4851 W Gandy Blvd Tampa, FL. 33611
(813) 839-5441
Hudson Manor Inc
115 E Davis Blvd Tampa, FL. 33606
(813) 254-8399
Hyperbaric And Wound Care Inc
1213 W Hillsborough Ave Tampa, FL. 33603
(813) 238-3178
Independent Living Inc
6508 Gunn Hwy Tampa, FL. 33625
(813) 963-6923
Injury & Accident Clinic
2310 W Waters Ave # B Tampa, FL. 33604
(813) 933-9529
Injury Rehab Specialists
5305 Windbrush Dr Tampa, FL. 33625
(813) 319-2223
Injury Rehabilitation Care Inc
7821 N Dale Mabry Hwy Ste 106 Tampa, FL. 33614
(813) 964-6841
Insignia Care For Women
4150 N Armenia Ave # 200, Tampa, FL. 33607
(813) 876-0914
Invo Progressus
2701 N. Rocky Point Drive, Suite 650 Tampa, FL. 33607
(813) 288-8131
Iris' Aclf
7509 Canal Blvd Tampa, FL. 33615
(813) 886-2061
James A Haley Veterans Hosp
13000 Bruce B Downs Blvd Tampa, FL. 33612
(813) 972-2000
Jewish Center Towers
3001 W De Leon St Tampa, FL. 33609
(813) 870-1830
Jj's Group Home
14009 Basin St Tampa, FL. 33625
(813) 969-3106
Jones Chiropractic Clinic
14003 N Dale Mabry Hwy, Tampa, FL. 33618
(813) 963-3055
Jsa Medical Group
5537 Sheldon Rd # K Tampa, FL. 33615
(813) 885-5817
Jsa Medical Group-Palma Ceia
3602 S Manhattan Ave Tampa, FL. 33629
(813) 837-0221
Kelly Assisted Living Servic
4100 W Kennedy Blvd Tampa, FL. 33609
(813) 286-1445
Kid-Pro Therapy Svc
16546 N Dale Mabry Hwy Tampa, FL. 33618
(813) 964-8481
King's Manor
2946 W Columbus Dr Ofc Tampa, FL. 33607
(813) 875-0139
Kristianna's Alf Home
104 E Garland Ct Tampa, FL. 33613
(813) 961-6887
Lakeshore Villas
16002 Lakeshore Villa Dr Tampa, FL. 33613
(813) 968-5093
Lepard's Boarding Home
414 W Ross Ave Tampa, FL. 33602
(813) 225-1317
Life Span Rehab Corp
4710 N Habana Ave # 301 Tampa, FL. 33614
(813) 871-5882
Lifepath Hospic Thrift Store-Tampa
4802 Gunn Hwy, Tampa, FL. 33624
(813) 969-2049
Lifepath Hospice
3010 W Azeele St Tampa, FL. 33609
(813) 877-2200
Lifepath Hospice
111 Kelsey Ln Ste F Tampa, FL. 33619
(813) 622-8058
Lifepath Hospice
1911 N Us Highway 301 Tampa, FL. 33619
(813) 664-0684
Lifepath Hospice
1918 S Dale Mabry Hwy Tampa, FL. 33629
(813) 259-1028
Lifepath Hospice And Palliative Inc
11150 N 53rd St, Tampa, FL. 33617
(813) 984-2100
Liz's Care Adult Family Care Home
7102 Dellwood Dr Tampa, FL. 33619
(813) 417-0934
Lm Medical Center
11010 N Dale Mabry Hwy Ste 102 Tampa, FL. 33618
(813) 443-5390
Long Chiropractic & Rehab Center
4282 W Linebaugh Ave Tampa, FL. 33624
(813) 930-6112
M & R Therapy
800 W Dr Martin Luther King Jr Blvd Tampa, FL. 33603
(813) 223-2500
Maclaren Sportsmedicine Inc
11301 Countryway Blvd, Tampa, FL. 33626
(813) 855-8450
Magnolia Gardens Manor
2600 E 31st Ave Tampa, FL. 33610
(813) 247-3257
Manhattan Place
4033 S Manhattan Ave Tampa, FL. 33611
(813) 831-7115
Mariner Health Care
3117 W Gandy Blvd Tampa, FL. 33611
(813) 261-5500
Mary Walker Towers
4912 E Linebaugh Ave Tampa, FL. 33617
(813) 985-8809
Matrix Healthcare Services
5706 N Center Dr Tampa, FL. 33604
(813) 247-2077
Mc Nealy's Boarding Home
Po Box 76632 Tampa, FL. 33675
(813) 221-5587
Medical Center Bellmar
3322 W Woodlawn Ave, Tampa, FL. 33607
(813) 514-9999
Meditech Medical Centers
7208 N Sterling Ave Tampa, FL. 33614
(813) 933-3060
Melach Hospice House
11125 N 52nd St, Tampa, FL. 33617
(813) 984-2200
Memorial Hospital Of Tampa
Po Box 18045 Tampa, FL. 33679
(813) 873-6400
Mercy Health Care Of Tampa
6428 Eden Ln, Tampa, FL. 33634
(813) 249-9944
Methodist Place
400 E Harrison St Tampa, FL. 33602
(813) 229-2791
Migdalia's Aclf
2302 N Lincoln Ave Tampa, FL. 33607
(813) 879-6980
Miller Chiropractic & Medical Center
2942 W Columbus Dr, Tampa, FL. 33607
(813) 879-6500
Minute Clinic
813 W Bearss Ave Tampa, FL. 33613
(813) 908-0360
Mounte De Sion
3204 W Leroy St Tampa, FL. 33607
(813) 875-7425
Ms B's Place Inc
6701 S Kissimmee St Tampa, FL. 33616
(813) 805-9381
Nena's Comfort Of Home
4623 W Bay To Bay Blvd Tampa, FL. 33629
(813) 837-0546
New Life Medical Ctr
4521 N Habana Ave Tampa, FL. 33614
(813) 353-0666
North Tampa Community Health
1502 E Fowler Ave, Tampa, FL. 33612
(813) 866-0950
Oakland Manor
2812 N Nebraska Ave Tampa, FL. 33602
(813) 229-6722
Oakwood Park Su Casa
1514 E Chelsea St Tampa, FL. 33610
(813) 238-6406
One Source Medical Group
11941 Sheldon Rd Tampa, FL. 33626
(813) 792-3560
Osteoporosis And Rheumatology Center Of Tampa Bay
3218 W Azeele St Tampa, FL. 33609
(813) 879-1188
Pain Care Plus
1121 Marbella Plaza Dr Tampa, FL. 33619
(813) 571-3233
Palm Ave Baptist Tower
215 E Palm Ave Tampa, FL. 33602
(813) 223-2686
Palm Terrace Resident Care
5121 E Serena Dr Tampa, FL. 33617
(813) 988-0033
Palma Ceia
3011 W De Leon St Tampa, FL. 33609
(813) 354-8767
Park Place Of Carrollwood
13550 S Village Dr Tampa, FL. 33624
(813) 908-5300
Peace Of Mind Medical Care
1913 W Dr Martin Luther King Jr Blvd Tampa, FL. 33607
(813) 801-9192
Peachford House Tampa Men
10610 N 30th St Apt. 10b, Tampa, FL. 33612
(813) 442-6323
Pediatrix Medical Group
4321 N Macdill Ave Tampa, FL. 33607
(813) 879-4101
Phoenix Programs Of Florida
4618 N Hale Ave Tampa, FL. 33614
(813) 877-7021
Phr Associates
4221 N Himes Ave, Tampa, FL. 33607
(813) 931-0101
Physical Rehab Ctr Inc
1936 W Union St Martin L Kng Jr #206, Tampa, FL. 33607
(813) 870-1802
Pinnacle Health Group
2605 W Swann Ave # 100, Tampa, FL. 33609
(813) 874-5500
Presbyterian Villas Of Tampa
4011 S Manhattan Ave Tampa, FL. 33611
(813) 839-5331
Psychological Resources Ctr
2805 W Busch Blvd # 100 Tampa, FL. 33618
(813) 933-1999
Quest Diagnostics
13301 N Dale Mabry Hwy, Tampa, FL. 33618
(813) 908-7249
Rehab One Physical Therapy
11809 N Dale Mabry Hwy Tampa, FL. 33618
(813) 265-2221
Rehabilitation & Elctrdgnstcs
2914 N Boulevard Tampa, FL. 33602
(813) 228-7696
Rehabilitation & Healthcare
4411 N Habana Ave Tampa, FL. 33614
(813) 872-2771
Renal Care Group
4705 N Armenia Ave Tampa, FL. 33603
(813) 871-6515
Rescare Homecare
4100 W Kennedy Blvd Suite 334 Tampa, FL. 33609
(813) 286-0144
Respitek Medical Svc
8257 Causeway Blvd, Tampa, FL. 33619
(813) 623-6424
River Pines Apartments
7517 N 40th St Tampa, FL. 33604
(813) 985-4419
Rocky Creek Village
8606 Boulder Ct Tampa, FL. 33615
(813) 884-3388
Ruby's Residence
5906 N 32nd St Tampa, FL. 33610
(813) 237-1330
Saint Joseph's Hospital
3001 W Dr Martin Luther Kng Jr Tampa, FL. 33607
(813) 554-8500
Santa Monica Clinic
2901 W Saint Isabel St # E Tampa, FL. 33607
(813) 874-2982
Select Physical Therapy
3500 E Fletcher Ave Tampa, FL. 33613
(813) 971-9351
Senior Care Now
10521 Chambers Dr, Tampa, FL. 33626
(813) 952-7182
Sexual Health Std Testing
2727 W Dr Martin Luther King Jr Blvd Tampa, FL. 33607
(813) 995-7975
Shady Oaks Retirement Home
2208 E 138th Ave Tampa, FL. 33613
(813) 978-0819
Shady Palms Retirement Homes
14527 N Florida Ave Tampa, FL. 33613
(813) 961-3072
Shriners Hospital
12502 Pine Dr Tampa, FL. 33612
(813) 972-2250
Slezak Colonrectal Surgery Clinic
4814 N Habana Ave Tampa, FL. 33614
(813) 873-2650
Solutions Medical Ctr Iv Inc
4150 N Armenia Ave # 201 Tampa, FL. 33607
(813) 374-2124
South Tampa Health & Rehab Ctr
4610 S Manhattan Ave Tampa, FL. 33611
(813) 839-5311
Southerland Place
3401 W Bearss Ave Tampa, FL. 33618
(813) 961-1044
Sport And Spine Physical Therapy And Wellness Cent
15349 Amberly Drive Tampa, FL. 33647
(813) 910-9040
Springs Water Assisted Living Facility
1411 E Waters Ave Tampa, FL. 33604
(813) 935-8978
St Joseph Hospital
3001 Dr Martin Luther King Jr Tampa, FL. 33610
(813) 870-6470
St Joseph's Hospital
Po Box 4227 Tampa, FL. 33677
(813) 870-4000
St Joseph's Knox Village
4100 E Fletcher Ave Tampa, FL. 33613
(813) 971-7038
St Joseph's Occupational Health Program
3005 W Dr Martin Luther King Jr Blvd, Tampa, FL. 33607
(813) 870-4485
St Joseph's Women's Hospital
3030 W Dr Martin Luther Kng Jr Tampa, FL. 33607
(813) 879-4730
Suncoast Surgical & Medical
2711 N 58th St, Tampa, FL. 33619
(813) 881-0065
Sunshine Retirement Home
5002 Cumberland Dr Tampa, FL. 33617
(813) 899-1061
Sweetwater Manor
8615 Hulsey Rd Tampa, FL. 33634
(813) 887-5683
Synergy Medical & Rehab
15511 N Florida Ave # C2, Tampa, FL. 33613
(813) 964-1807
Take Care Health Systems
17511 Bruce B Downs Blvd Tampa, FL. 33647
(813) 972-0786
Take Care Health Systems
2115 E Hillsborough Ave Tampa, FL. 33610
(813) 237-3743
Tampa Arthritis Center Pa
508 S Habana Ave # 120 Tampa, FL. 33609
(813) 873-7321
Tampa Baptist Manor Inc
215 W Grand Central Ave Tampa, FL. 33606
(813) 253-2868
Tampa Bay Bone And Joint
10968 Sheldon Rd Tampa, FL. 33626
(813) 926-4010
Tampa Bay Retirement Ctr
11722 N 17th St Tampa, FL. 33612
(813) 971-8072
Tampa Bay Surgery Ctr
11811 N Dale Mabry Hwy Tampa, FL. 33618
(813) 961-8500
Tampa Bay Womens Center
5830 W Cypress St Ste A Tampa, FL. 33607
(813) 286-2768
Tampa Family Health Ctr
1514 N Florida Ave # 300 Tampa, FL. 33602
(813) 490-1957
Tampa General Hospital
1 Tampa General Tampa, FL. 33606
(813) 844-7000
Tampa General Rehab Ctr
6 Tampa General Cir Tampa, FL. 33606
(813) 844-7700
Tampa Health Care Ctr
2916 Habana Way Tampa, FL. 33614
(813) 876-5141
Tampa Outpatient Surgical
5013 N Armenia Ave Tampa, FL. 33603
(813) 875-0562
Tampa Presbyterian Village
721 W Green St Tampa, FL. 33607
(813) 253-0008
Tampa Total Health
2410 Victoria Gdns Tampa, FL. 33609
(813) 443-0777
Tampa Woman's Health Center Inc
2010 E Fletcher Ave Tampa, FL. 33612
(813) 977-6176
Tgh Family Care Ctr
5802 N 30th St, Tampa, FL. 33610
(813) 237-2856
The Little Clinic
3615 W Gandy Blvd Tampa, FL. 33611
(813) 316-4036
The Treatment Center Of The Palm Beaches
701 S Howard Ave Tampa, FL. 33606
(813) 421-3604
The Wellness Center
6601 Memorial Highway Suite 102, Tampa, FL. 33615
(813) 443-0758
Therapeutic Rehab Specialists
9225 Bay Plaza Blvd Suite # 420 Tampa, FL. 33619
(813) 876-8771
Therapy & Sports Ctr Of Tampa
4511 N Himes Ave Tampa, FL. 33614
(813) 873-9114
Tlc Graham Home
2400 E Henry Ave Tampa, FL. 33610
(813) 272-2219
Tlc Medical, Aesthetics, & Pain Management
5106 North Armenia Avenue Suite 1 Tampa, FL. 33603
(813) 874-1852
Toria's Assisted Living Facility #1
2073 Balfour Circle, Tampa, FL. 33619
(813) 621-9475
Town & Country Hospital
6001 Webb Rd Tampa, FL. 33615
(813) 885-6666
Transatlantic Healthcare
5110 Eisenhower Blvd, Tampa, FL. 33634
(813) 386-4170
Triple I Care
6331 Memorial Hwy Tampa, FL. 33615
(813) 374-9174
Turning Point Of Tampa Inc
6227 Sheldon Road Tampa, FL. 33615
(813) 882-3003
United Healthcare Center Inc
2137 W Dr Martin Luther King Jr Blvd Martin L King Jr Tampa, FL. 33607
(813) 350-0150
United Medical Care
3203 W Tampa Bay Blvd Tampa, FL. 33607
(813) 871-2950
University Community Hospital
7171 N Dale Mabry Hwy Tampa, FL. 33614
(813) 932-2222
University Community Hospital
3100 E Fletcher Ave Tampa, FL. 33613
(813) 971-6000
University Glaucoma Ctr
4444 E Fletcher Ave Ste C Tampa, FL. 33613
(813) 972-9040
University Village
12401 N 22nd St Tampa, FL. 33612
(813) 975-5000
University Village
12401 N 22nd St, Tampa, FL. 33619
(813) 975-5009
University Village Nursing Ctr
12250 N 22nd St Tampa, FL. 33612
(813) 975-5001
Urgicare Tampa
3345 S Dale Mabry Hwy Tampa, FL. 33629
(813) 831-7766
Us Air Force Hospital
8415 Bayshore Blvd Tampa, FL. 33621
(813) 828-3258
Vein Specialists Of Tampa
2835 W De Leon Tampa, FL. 33609
(813) 374-9002
Vencor Hospital
4555 S Manhattan Ave Tampa, FL. 33611
(813) 839-6341
Vencor Hospital
4801 N Howard Ave Tampa, FL. 33603
(813) 874-7575
Villa Rosa
7007 Fountain Ave Tampa, FL. 33634
(813) 249-8488
Villa Serena
6003 Ambassador Dr Tampa, FL. 33615
(813) 881-1841
Weightloss Holdings L.l.c.
412 E Madison St # 1100 Tampa, FL. 33602
(813) 225-1051
Weinberg Village
13005 Community Campus Dr, Tampa, FL. 33625
(813) 964-7971
Weinberg Village
13005 Community Campus Dr Tampa, FL. 33625
(813) 969-1818
West Chase Ortho & Rehab
11603 Sheldon Rd, Tampa, FL. 33626
(813) 792-9843
Woodbridge Nursing & Rehab Ctr
8720 Jackson Springs Rd Tampa, FL. 33615
(813) 885-6053
Ybor City Healthcare & Rehab
1709 N Taliaferro Ave Tampa, FL. 33602
(813) 223-4623
Yetey Assisted Living Facility
8602 N 22nd St, Tampa, FL. 33604
(813) 930-8370